Do you still have no idea about where to find the direct download link? The free built-in URL Sniffer of HiDownload is able to get those from streaming multimedia and analyze the useful download link regardless of javascript or activex obstacles.
Fortunately, we added "Sniffer" feature in HiDownload Platinum version, it replaced the feature of "URL Helper".

No matter how deep the URL hides, HiDownload Sniffer will find it and display it in front of your eyes. Once the download link/URL is captured, it will be sent to HiDownload's download center for downloading. And this allows streamed files download through every download manager.

Sniffer Features
Easy solution to find the URL
Click "Start to sniff" button, Hidownload Sniffer will run immediately.
Support all streams finding
The URL Sniffer can capture media that transferred through HTTP, MMS, RTSP, RTMP….
Support variety of file formats
Surpport file format .flv .f4v .mov .mp4 .m4v .hlv .mpeg4 .mpeg .mpg .rm .rmvb .asf .avi .wmv .mkv .divx .aac .ac3 .m4a .ra .wma .fla and .mp3
How to capture download urls of streaming video and audio with Hidownload Sniffer
Step by step
1. When You install "HiDownload (Platinum version)" and run, you are asked to start sniffer.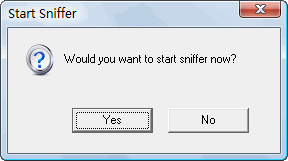 2. Select the "Yes", HiDownload Platinum will check the available network adapter and start sniffer.
(1) If HiDownload Platinum can not find the available network adapter, then all network adapter list window will be opened.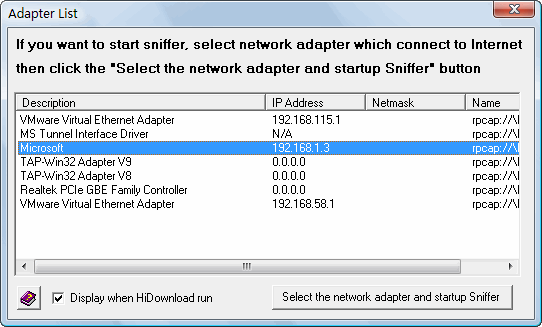 (2) select the adapter connecting to Internet, then click the "Select the network adapter and startup sniffer" button
3. Sniffer starts to capture network data packet, and detect the stream link(URL)
4. If the stream's link(URL) is detected, and you can select the link and download it.

5.If you want to download automatically, please open "Options" window, and select "Download automatically" of sniffer.