Wouldn't be great if internet free radios are allowed to be downloaded to mp3 from radio stations? Hidownload is a unique streaming audio downloader that captures radio mp3 files from SHOUTcast™ and IceCast websites. Every genre that downloaded by Hidownload is of high quality, tagged with original stream file name.
Hidownload Features
More radio website available
Not only working for SHOUTcast stations, Hidownload is also capable in IceCast and other radio stations;
Split audio tracks accurately
With the basic function of sniffing URL and downloading stream audio, Hidownload can chop off the audio tracks accurately from its start to its end when it is downloading internet radio, without any buffer or annoying noise.
Tag Songs with its stream name
Using song recognition technology, Hidownload analyzes each song stream and tag it automatically to original name
How to Download/record/Rip SHOUTcast™ and IceCast MP3 Streams

1.Open the "SHOUTcast"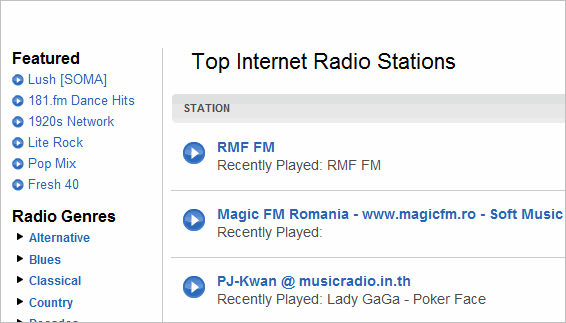 2. click mouse right-button on a play image in shoutcast.com, then select "Copy Shoutcut" menu, copy the URL: http://yp.shoutcast.com/sbin/tunein-station.pls?id=1116397
3.Run HiDownload, open "add" windows, and select the "MP3 Streaming(Shoutcast, IceCast)" streams.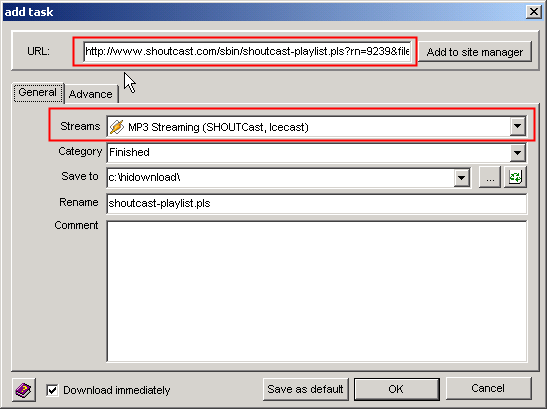 4.clicked the "OK" button, HiDownload starts to save the MP3 data to your PC.
5.After HiDownload saving some songs, You can double-clicked the file in the list to play it.