HiDownload as a Live MP3 Stream recorder/grabbers/ripper
SHOUTcast and Icecast are home of free Internet Radio. Tune-in to thousands of free online radio stations from DJs and broadcasters around the world. If you want to record the live mp3 music, and listen them anywhere, HiDownload is your selection.
The best live mp3 stream players are winamp, XMMS, Zinf and foobar2000
how to record icecast(shoucast compatible) mp3 audio stream to pc by Hidownload?
Keyword:
download live stream, download radio stream, download stream mp3, download streaming music, music video stream, music videos stream, mp3 stream, stream music, streaming downloads
1.Open the "SHOUTcast"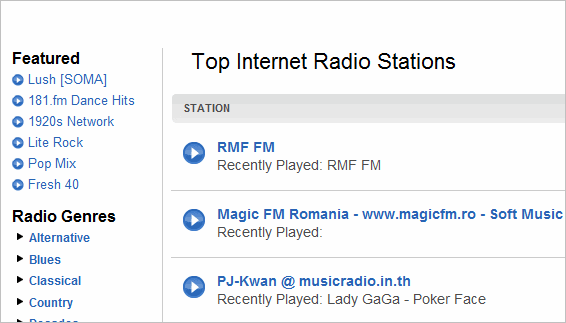 2. click mouse right-button on a play image in shoutcast.com, then select "Copy Shoutcut" menu, copy the URL: http://yp.shoutcast.com/sbin/tunein-station.pls?id=1116397
3.Run HiDownload, open "add" windows, and select the "MP3 Streaming(Shoutcast, IceCast)" streams.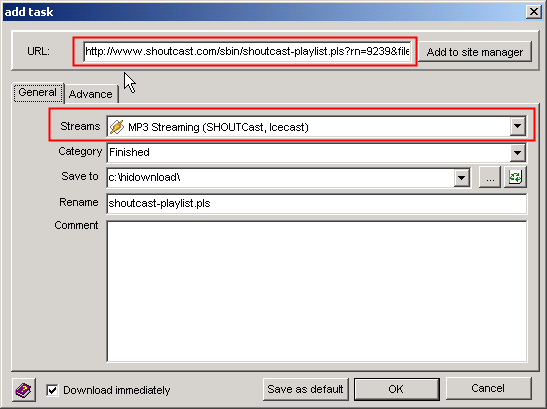 4.clicked the "OK" button, HiDownload starts to save the MP3 data to your PC.
5.After HiDownload saving some songs, You can double-clicked the file in the list to play it.
OK. Now you know HiDownload is a excellent SHOUTcast™/IceCast Ripper. If you have any question or suggestion, please email us, thanks.