Software requirement: HiDownload Platinum (Download it)
What is Silverlight
Microsoft Silverlight is a programmable web browser plugin that enables features such as animation, vector graphics and audio-video playback that characterise rich Internet applications.
Silverlight supports playback of WMV, WMA, ASF and MP3 media content[4] across all supported browsers without requiring Windows Media Player, the Windows Media Player ActiveX control or Windows Media browser plugins.
Step-by-Step:
1.Download and install HiDownload Platinum
2.Run HiDownload Platinum, click "Yes" button when the "Start sniffer" window shows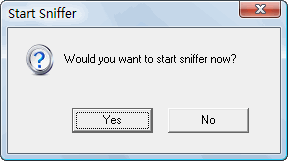 3.Sniffer start to monitor network data
4.Visit the website, and play the videos.
5.HiDownload platinum will start downloading once silverlight stream video or audio was detected.