Real Time Messaging Protocol (RTMP) is a proprietary protocol developed by Adobe Systems for streaming audio, video and data over the Internet, between a Flash player and a server.
How to download video and audio(flv, mp4,mp3) from rtmp stream server by HiDownload
Software requirement: HiDownload Platinum (Download it)
Step by Step:
1. Download and install HiDownload Platinum.
2. Run HiDownload Platinum, you are asked to start sniffer.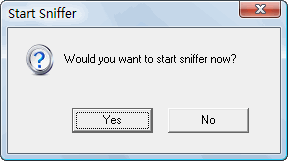 3: Select the "Yes", HiDownload Platinum will check the available network adapter and start the sniffer.
4: Sniffer has been launched, and began to monitor the network data.
5: Open the webpage and play the video which you want to download.
6: If Sniffer has detected the video's link, it will be shown in list.

7: HiDownload Platinum will automatically download the stream video.
Note: If some rtmp stream servers refuses HiDownload Platinum to download the stream, you can use FLV Recorder to record the stream video and audio. more details: www.FlvRecorder.com